5. Young Photographers Award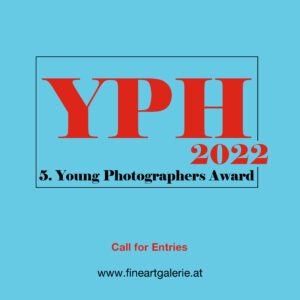 Wir laden alle Fotografinnen und Fotografen unter 25 Jahren ein, Ihre Arbeiten einzureichen.
Gewünscht sind serielle, konzeptuelle Arbeiten und fotografische Werkgruppen.
Wir suchen nach progressiven und innovativen fotografischen Ansätzen erzählerischen und dokumentarischen Inhalts.

Alle fotografischen Techniken, Arbeits- und Herangehensweisen, von analog bis digital sind willkommen. Wir begrüßen insbesondere Arbeiten, die die Grenzen der üblichen fotografischen Medien erforschen und ausdehnen.

Vom 1. Mai – 15. Juli 2022 sind FotografInnen eingeladen 10 bis maximal 15 Bilder einzureichen.

Bitte reichen Sie digitale Bilder oder Scans von analogen Arbeiten mit einer Mindestgröße von 20×30 cm/300dpi ein. Die Dateien müssen Ihren Vornamen und Namen tragen und nummeriert sein: Vorname.Name_01. Bitte senden Sie die Dateien per WeTransfer bis spätestens 15. Juli 2022 an unsere E-Mail-Adresse: office@fineartgalerie.at .
Die 10 besten Einsendungen, ausgewählt von der Jury, werden in einer Ausstellung in unserer Galerie vom 3. September bis 28. Oktober 2022, sowie in einem gedruckten Katalog gezeigt. Die 10 Gewinner erhalten jeweils 20 Ausstellungskataloge gratis und werden zur Eröffnung eingeladen.
Die Eröffnung der Ausstellung findet am Freitag den 2.September 2022 um 19h in der Fine Art Galerie, Wienerstrasse 10, 3133 Traismauer NÖ statt.
Art Call for entries for fine art photographers
5th YOUNG PHOTOGRAPHERS AWARD
Photographers under the age of 25 who are working at all levels are invited to submit work reflecting specific series or body of work. We are looking for progressive and innovative takes on photography, with storytelling or documentary content. From analog to digital, all photographic techniques and approaches are welcome. This can include works that stretch the boundaries of the assumed definitions of the photographic-based media.
From 1st of May – 15th of July 2022 Photographers are supposed to submit 10 to max 15 images.
Please submit you digital pictures or scans of analog works with a minimum size of 20×30 cm/300dpi, the files have to carry your prename and name and must be numbered: prename.name_01
Please submit the files using WeTransfer until 15th of July to our e-mail address: office@fineartgalerie.at .
The 10 best submissions, selected by the jury will be shown in an exhibition at our gallery between 3rd of September and 28th of October 2022 and also in a printed catalog. The 10 winners will receive 20 exhibition catalogs for free, and will be invited for the grand opening.
Grand Opening will happen on 2nd of September 2022 at 7 p.m. at the FineArt Galerie, Wienerstrasse 10, 3133 Traismauer, Austria
archiv